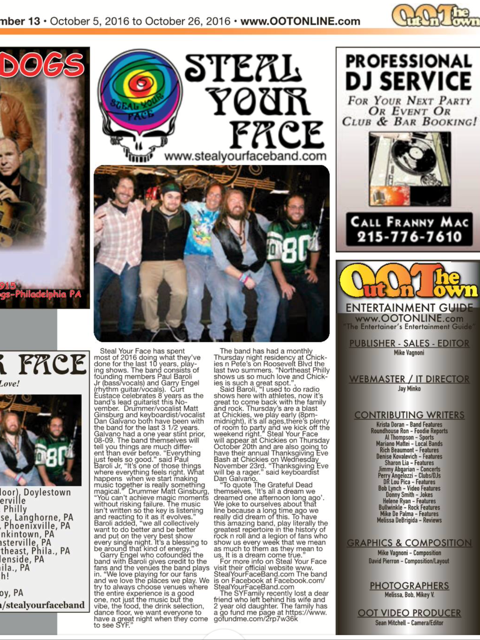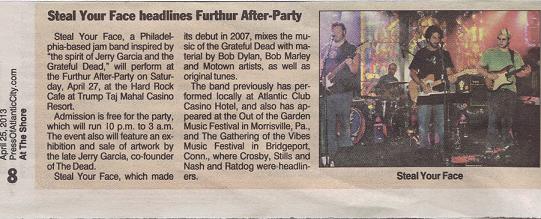 Band of the Week: Steal Your Face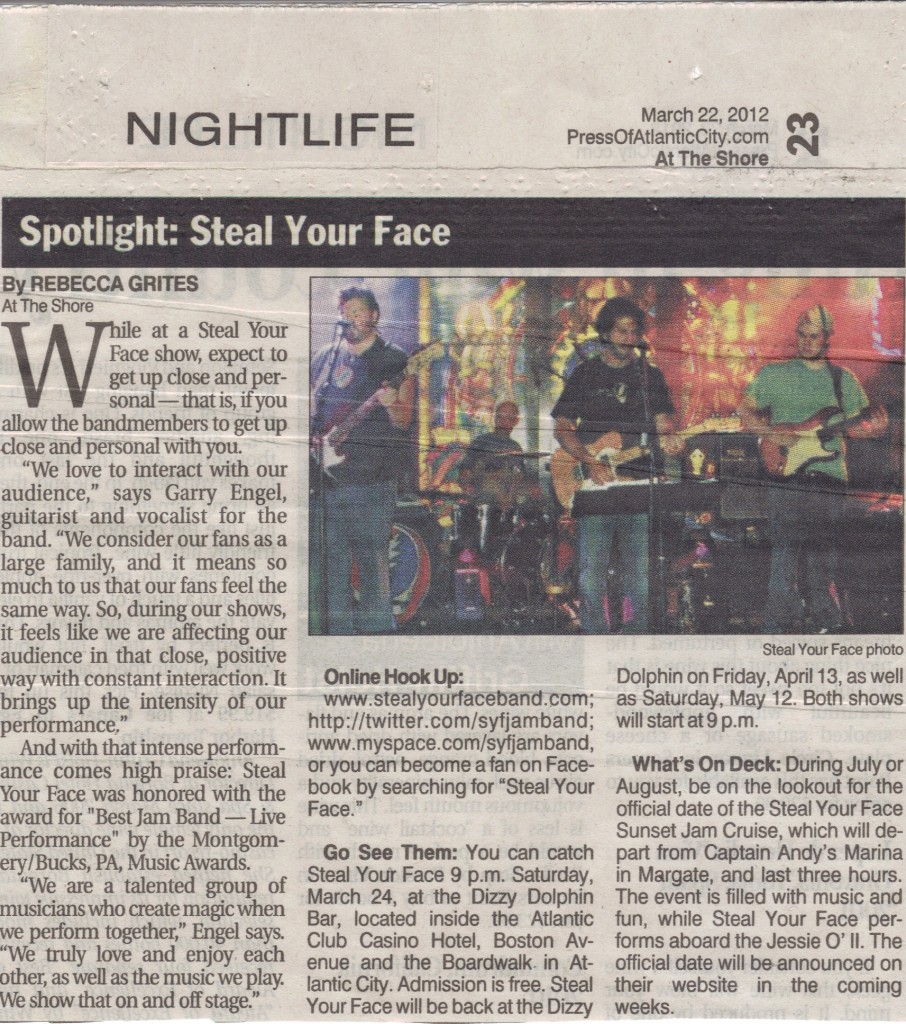 http://www.pressofatlanticcity.com/ats/night_life/band-of-the-week-steal-your-face/article_f284d68b-bda4-553e-b7d5-c711fc8a94f9.html
Appeared in  Atlantic City Press 11/20/10
http://blogs.atlanticcityweekly.com/ac-central/2010/11/08/head-to-the-hard-rock-after-the-allmans/
 Head to the Hard Rock After the Allmans!
The Steal Your Face band will play the Hard Rock Cafe Saturday night, Nov. 13, after the Allman Brothers concert.If you're thinking about heading home after Saturday night's much-anticipated Allman Brothers concert at the Trump Taj Mahal … think again!
There's more good times to be had, as the Hard Rock Café, located on the Boardwalk side of the Taj, will be hosting an after-party sponsored by WMGM 103.7 The Shark radio, and featuring the sensational Steal Your Face band playing into the night.
The after-party will be held in conjunction with the return of the Jerry Garcia Art Show & Sale, which first made a splash in A.C. last February during the Furthur show at the Taj. The art show will be at the Hard Rock from 2pm-2am Saturday, Nov. 13, and from 10am-3pm Sunday, Nov. 14.
Steal Your Face is a dynamic, psychedelic, high-energy band that blends original music with covers of the Grateful Dead, Bob Dylan, Bob Marley and other classic rockers. It was recently voted the "best jam band" at the Montgomery-Bucks (Pa.) Music Awards. Comprised of Paul Baroli (bass and lead vocals), Garry Engel (rhythm guitar and vocals), Lou Zalvino (percussion), Curtis Eustace (lead guitar) and Michael Morrow (keyboard and vocals), Steal Your Face has a fresh sound that "will have the Woodstock generation reminiscing, the Bonnaroo kids screaming for more, and everyone dancing."
Weekend's Best Bets [+ Show]
Bucks County Courier Times Newspaper
October 10th, 2008
Bucks County's own Steal Your Face will bring their unique live concert experience to Puck in Doylestown, PA on Friday October 10th. The "Steal Your Face Fall Harvest 2008" will feature the group's first ever acoustic performance. "We've all played acoustic instruments our whole lives, and jammed together around campfires but have never done it under the SYF moniker. Should be very cool", says the band's bass player and lead singer Paul Baroli. In addition to the acoustic set the band will also be playing 2 electric sets. Tickets are $7 and will be available at the door or before the show at www.pucklive.com.
Gathering of the Vibes Festival Program describing Steal Your Face [+ Show]
Ken Hays & the Gathering of the Vibes Family
Representing the music of The Grateful Dead, Steal Your Face is a tremendously talented tribute band from Philadelphia, Pa. Each Steal Your Face performance is an unique improvisatory musical exploration, yet invokes fond remembrances of the band that first brought our community together.
Band of the Week [+ Show]
The Sentinal Newspaper, Carlisle PA
Arts
MySpace Band of the Week
Philly band headlines area Halloween show
By Courtney Baker, Sentinel Correspondent, October 23, 2008
Here is the link to the article online:http://www.cumberlink.com/articles/2008/10/23/a_e/arts/doc4900928244f76482475837.txt
This Halloween, rather then spending the night passing out candy to children, spend the night singing and dancing to one of Philadelphia's favorites, Steal Your Face Band.
Steal Your Face Band is a group that loves to get their audience moving and will be appearing on Halloween night at a costume party and contest at Market Cross Pub and Brewery in Carlisle.
This will be the band's first show in the area.
"I've only been to Carlisle for the car shows," vocalist and guitarist Garry Engel says.
Joining Engel in the five-member band are Paul Baroli, who sings lead vocals and plays bass, Mike Christi who sings vocals and plays guitar, Lou Zalvina, who plays drums, and Roy Bell, who plays keyboard, pedal steel and sings vocals.
Their love for music brought them together in March of 2007. The group has been rocking the stage of many Pennsylvania and New Jersey night clubs and music festivals ever since.
The band's classic rock sound is influenced by bands such as Grateful Dead, Allman Brothers and famous singers including Bob Dylan and Bob Marley.
Hailing from Philadelphia, Steal Your Face Band is excited about playing at a smaller, more intimate venue like Market Cross.
"We're really looking forward to the show," Engel says.
The band also has a little something special in store for the Carlisle crowd.
Recently the group mixed both electric and acoustic sets at a show and got a great response from the audience.
Bell, in addition to pedal steel, plays the mandolin and fiddle.
"It was really special and worked out nice," Engel says.
They plan to try it again for their Halloween show.
The party will run 10 p.m.-1 a.m. Oct. 31 at Market Cross Pub, 113 N. Hanover St., Carlisle.
But even if you can't make it out for this show, be sure to check out Steal Your Face Band online at www.stealyourfaceband.com.
Either way, hopefully Southcentral Pennsylvania will be seeing more of Steal Your Face Band in the near future.
"To get into your area would be really nice," Engel says.
Hard Rockin' in Atlantic City (HARD ROCK CAFE) [+ Show]
ACWeekly.com & Atlantic City Weekly Newspaper
FURTHUR CONCERT AFTER PARTY with STEAL YOUR FACE
Hard Rockin' in Atlantic City
The Hard Rock Cafe in Atlantic City has a lot going on right now. We thought we'd let you know.
But first! Until March 26 you have a chance to win an awesome Hard Rock Atlantic City T-shirt and pin featuring The Who. Enter the acweekly.com contest here.
OK, now for the live music and stuff. Following next Saturday's (Feb. 27) Further concert at the Taj, there will be an after-party presented by 103.7 The Shark starting at 10pm, featuring a Jerry Garcia Art Show & Sale, live music from Steal Your Face Band and plenty of Deadhead action we're sure. The show hours are Saturday, Feb. 27, noon-2am, and Sunday, Feb 28. 11am-6pm. The Web addresses are: www.imagemakersart.com and www.stealyourfaceband.com
Band To Play at Market Cross-November 20, 2009
Featured in The News- Chronicle and Valley Times